Ida Langemark, SAP Ambassador
Department of Conservation
University of Gothenburg
Caption 1. University of Gothenburg
How do we continue to boost sustainable development when a worldwide pandemic forces the world into stagnation? In the last five months, this has been the major topic for the SAP ambassadors. The sustainability work from the University of Gothenburg's (GU) Department of Conservation has been especially dictated by this force majeure since participation in the SAP was introduced in February 2020.
The crucial consequence of the pandemic has led to the shutdown of many universities and conservation departments, and sustainability initiatives have been limited to distant anticipation and planning. The intentions to implement sustainable actions have been put on hold by necessity, and sustainability work has instead been driven by intentions of promoting sustainable development.
Fortunately, the promotion of sustainable development is well underway. The Gothenburg Centre for Sustainable Development (GMV) is the greatest force in gathering, coordinating, and supporting initiatives from sustainability-related student organisations at both the University of Gothenburg and Chalmers University of Technology. GMV works to improve the universities' sustainability efforts in different ways by being part of campus development and working for the integration of sustainability into all education programmes [1].This collaboration makes it possible to accomplish some of the SAP projects, not only at a departmental level, but also within the university in general. An example of this is the campaign encouraging students to bring their own reusable containers and cutlery when buying food.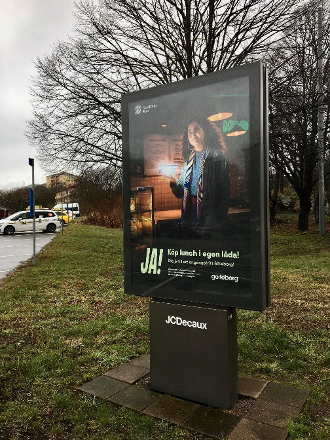 Caption 2. Source: the author. Advertising campaign sign saying: "JA! Köp lunch i egen låda!". English translation: "YES! Buy lunch in (your) own container!"
Projects promoting sustainable development in the GU's Department of Conservation have started from the Self-Assessment Form provided by SAP. After reviewing the SAP Self-Assessment Form from "Materials and Waste" in February, we found that the biggest issues regarding consumption and disposal of materials concerned disposable equipment and the disposal of solvents.
We found that the issues depended more on student behaviour than departmental policies and lack of possibilities. Examples of this include confusion on how to dispose chemicals, policies on reuse and how to extend the life span of equipment such as brushes and containers. Therefore, we decided to focus on education and clear instructions on sustainable behaviour, particularly targeting new students entering the department in autumn and recent graduates starting their professional careers.
Because GU is working to slow the spread of COVID-19 infections, most courses in the Autumn 2020 conservation programme will be carried out remotely, making the autumnal return to campus limited. Thus, we focus foremost on projects that can be carried out digitally as well as the formation of written suggestions to be initiated whenever possible. This should hopefully result in implementation of sustainable projects and procedures, developed in cooperation with the head of lab and staff members.
Sustainable development initiatives that can be promoted and carried out during times of remote studies include:
Web lectures with additional PowerPoint presentations concerning sustainable behaviour in university labs and ateliers (directed at new students – including introduction to responsible use of equipment, tool maintenance and responsible reuse of disposable equipment).
Formation of written guidelines, later to be available in the university labs and ateliers (including posters and laminated instructions on disposal of chemicals, sorting of lab disposables, and reuse policies).
Redistribution and advertisement of information and research provided by organisations and collaborative projects working on sustainability (including presenting digital seminars, articles and research).
Presentations of sustainability-related actions and research at the university (e.g. student organisations and research projects).
Encouraging students to contribute to sustainable development by choosing sustainability-related topics for study projects and assignments.
With these actions, we aim to create a stable base of sustainable development for the education programme and inspire further interest and engagement in developing the profession. We believe that this is best done by raising awareness of current development and taking advantage of the cross-disciplinary structure of the department as well as existing collaborative projects at the university.
Cover image credit: The Gothenburg Centre for Sustainable Development ,https://www.gu.se/english/about_the_university/vision/Sustainability